HANUMAN CHALISA
Söndag 1 januari kl.14.00-21.00 ca
(även online)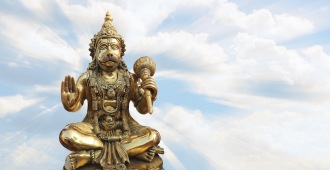 Enligt traditionen repeteras detta mantra 108 ggr varje nyårsdag för att aktivera positiv energi för det nya året.
Vi bjuder på fika. Inga förkunskaper, alla välkomna. Kostnadsfritt. Varmt välkommen!
"The Hanuman Chalisa is a hymn to Hanuman, the monkey god. Hanuman represents the strength to overcome all obstructions, all problems, anything that's in the way of us accomplishing our goals. Of course, our ultimate goal is to open our hearts. So it's a way of cleaning the mirror of our hearts. It's an invocation to that power, that strength within us."-- Krishna Das
Bihar School of Yoga - Hanuman Chalisa
Dates:
 1st January every year
Jai Ho.
Traditionally, the turn of the year has been marked by the beginning of spring, as a new cycle of life, growth and change emerges from the dormant depths of winter.
For spiritual aspirants, it is important to reflect on the year that has been. What was learnt? What strengths were seen? What shortcomings? What adjustments or improvements are needed? With clarity and understanding, one prepares for the new year: a new cycle of effort, experience, realization and expression, a new cycle of transformation.
The dawning of the new year is a time for renewal and revitalisation, and is an opportunity to commit oneself to a positive direction for the coming 12 months.
For this purpose, every year on 1st January the Hanuman Chalisa is chanted 108 times, heralding the first day of the new year with renewed inspiration, vision and energy.
The Hanuman Chalisa is a very special stotram. The mantras embody and invoke the qualities of Hanuman, including immeasurable strength and valour, perfect skill and accomplishment of heroic deeds, mastery of the senses, wisdom and true knowledge, virtue, and auspiciousness, as well as the utmost dedication to Sri Rama and what he stood for.
Chanting the Hanuman Chalisa gives strength, health, positivity, contentment, joy and peace, and opens the pathway to a new year of positive, beneficial and uplifting dharma and karma.
Jai Ho.