WORKSHOP MED SATYADEV BARMAN SÖNDAG 30 SEPTEMBER - "THE AWARENESS OF AWARENESS"
Återigen gästas vi av yogamästaren Satyadev Barman från Indien.
Genom historieberättande, musik, kunskap från de klassiska yogatexterna, meditation och tystnad ger denna workshop dig en unik möjlighet att utforska och komma i kontakt med ditt sanna jag.

THE AWARENESS OF AWARENESS
Everybody is aware. We are aware of our thoughts, our feelings, perceptions and sensations. And yet how many of us are truly aware that we are aware?
As we get constantly pounded by the relentless waves of thoughts, images, ideas, feelings, sensations, sounds, and so on, do we take a moment to ask 'What is it that knows this flow of thoughts, feelings, and perceptions? With what am I aware of my experience?'
The knowing of our being—or rather, awareness's knowing of its own being in us—is our primary, fundamental and most intimate experience. The happiness that we instinctively seek outside of ourselves, in people, objects, relationships and situations, happens to be ever present and available in the simple knowing of our own being as it truly is.
The knowing of our own being shines in each of us as the experience 'I am' or 'I am aware', or simply the knowledge 'I'.
This obvious, familiar and intimate experience has no attributes and thus no objective qualities. It is therefore overlooked or ignored by most people. This overlooking of our own being is the ultimate cause of unhappiness and suffering.
So what is the nature of the experience of being aware of awareness itself? The exploration of this question is the subject matter of this workshop.
Through stories, music, sacred teachings, meditations and silence, this workshop is a unique opportunity to explore and melt into the very essence of our being.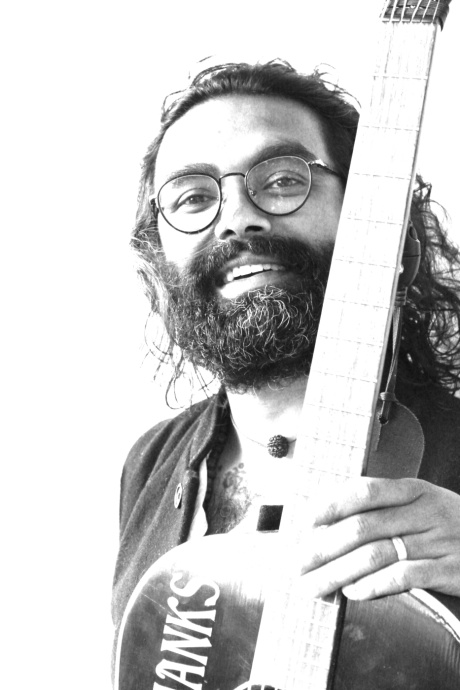 ABOUT SATYADEV
MUSICIAN, YOGA TEACHER AND AN ARDENT ADVOCATE OF THE VEDAS, SATYADEV COMES FROM KOLKATA, INDIA, BRINGING WITH HIM A MAGIC CARPET OF SACRED MUSIC AND SIMPLE YET PROFOUND VEDANTIC TEACHINGS IN THE FORM OF POWERFUL MANTRAS AND HEARTSONGS.
RAISED IN AN ENVIRONMENT OF RICH INDIAN SPIRITUAL TRADITION, SATYADEV'S MISSION IS TO OPEN HEARTS THROUGH SACRED MUSIC, MANTRA AND MEDITATION - TOOLS OF SPIRITUAL EMPOWERMENT ​AND SELF-REALISATION FOR THOUSANDS OF YEARS.
SATYADEV CARRIES IN HIS HEART A DEEP UNDERSTANDING OF THE VEDIC AND YOGIC TRADITIONS AND THE ESSENCE, WISDOM AND POWER OF THE ANCIENT TEACHINGS. THROUGH JOYFUL SATSANGS, CONCERTS AND MPOWER WORKSHOPS, HE SHARES THE KEY TO INTEGRATING THE SACRED TEACHINGS IN EVERYDAY LIFE.
HAVING ALSO SPENT MANY YEARS IN COMPANY OF BAULS - THE SUFI MINSTRELS OF RURAL BENGAL, SATYADEV'S MUSICAL SOUND IS A RICH FUSION OF FOLK AND ETHNIC RHYTHMS TRANSLATED THROUGH AN INTRICATE WEAVE OF STRINGS. A STUDENT AND TEACHER OF VEDANTA, SATYADEV SHUTTLES BETWEEN DENMARK AND KOLKATA, INDIA AND CURRENTLY LIVES IN A FARM IN THE IDYLLIC COUNTRYSIDE OF SOUTH DENMARK WITH HIS WIFE MALENE AND TWO CHILDREN, ISHA AND VISHNU.
SATYADEV HAS TAUGHT AND PERFORMED EXTENSIVELY OVER THE LAST FEW YEARS IN DENMARK, SWEDEN, NORWAY, GERMANY, HOLLAND, ESTONIA, FINLAND, SWITZERLAND, BELGIUM, CZECH REPUBLIC AND INDIA.
http://www.satya.dk